The Outsized Importance of Holistic Payments During Deductible Reset Season
The second half of any calendar year is marked by several milestones: kids going back to school, temperatures beginning to fall and if you're in the world of healthcare, a multitude of patients meeting their deductibles and pursuing more treatments and procedures likely to be paid by insurance.
The influx of patients during this time tests not only a practice's ability to serve its patients' health needs but also its patients' financial realities. More patients means more bills. If a healthcare provider offers a clunky, confusing billing and payment experience, it risks missed payments, losing patients and overburdening its staff once deductibles reset.
Taken together, these issues can lead to greater patient churn and employee turnover. Thankfully, a holistic billing and payment solution, natively built from the ground up, ensures that healthcare providers can deliver a smooth, seamless and simplified billing and payment experience, even during the busiest times of the year.
Healthcare Payments are Already a Challenge
When it comes to medical debt, new research shows it's an issue that is widespread and highly consequential: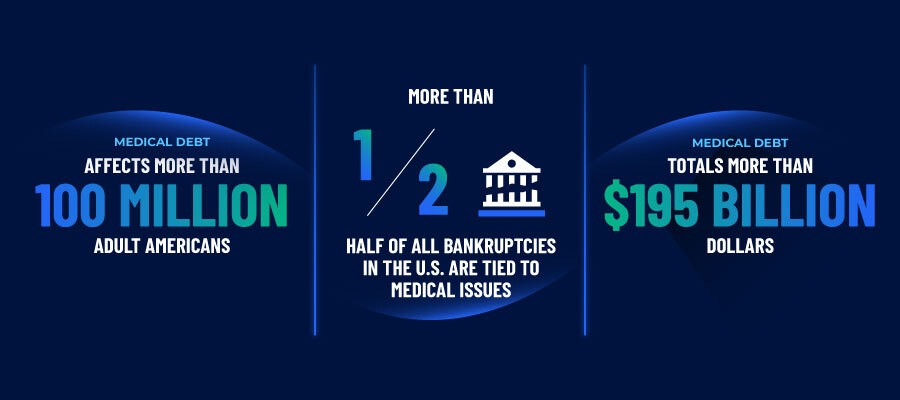 That's a lot of money, stress and financial pain tied to healthcare. But before we place the blame for this on the cost of healthcare, it's important to point out that patients often find it extremely difficult to make payments. A recent research report from Paymentus and PYMNTS showed that 52% of consumers experience frustrations when attempting to pay their bills. Of this 52%, 43% who had experienced one or two bill pay frictions were likely to switch providers, with this number climbing to 63% for those experiencing five or more frictions.
Clearly, the benefits of a frictionless billing and payment experience extend beyond revenue. Given that billing and payments are the most frequent touch point a healthcare provider generally has with its patient, the ability to easily view, manage and pay bills naturally becomes a loyalty driver. And with the cost of acquiring a new customer estimated at being 5X the cost of retaining one, it's more important than ever to serve as a provider that can care for a patient's physical and financial well being.
Defining a Poor Payment Experience
As the most frequent touchpoint a provider will have with its patients, it's important to understand the frustrations that may arise during a typical payment experience. Say you go to a grocery store where 20% of the time your card is declined. How long would it take you to stop going to that store and find another?
Or consider a store that doesn't accept your type of credit card. It's much easier to change stores than it is to change credit cards, so it's likely this limitation would drive you away from this store entirely.
There's also the peace of mind in knowing that a bill has been paid. But what if a provider doesn't offer notifications or makes it difficult to view the status of a payment? Without real-time confirmations, patients may be left to stress whether or not their payment went through, likely leading to a phone call to check the status. And if your billing and payment solution does not offer complete visibility, staff may be unable to provide this information to a patient. Now there are two frustrated parties instead of just one.
Patients Want Holistic Healthcare Payments
Recent Paymentus research shows that 62% of consumers experiencing multiple pain points in the last three months say they want a holistic bill payment platform. But – what is a holistic bill payment platform?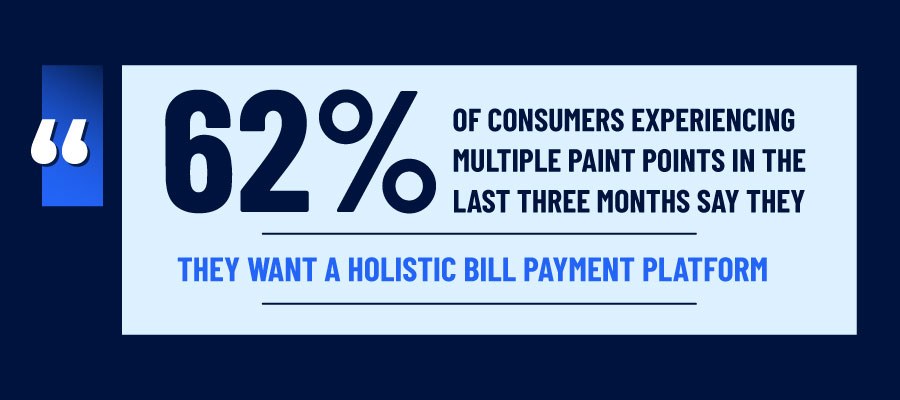 In short, a holistic bill payment platform is a comprehensive approach to billing and payments that centralizes the experience and seamlessly combines bill payment and account management into a single destination. A key component is the omnichannel payment experience that accommodates everything from traditional payment methods (ACH, cards) to new methods (digital wallets). This allows billers to access and serve the entire patient population, meaning all will be accounted for and have their preferences met.
Here are a few key capabilities that can help streamline the billing and payment process for your staff and ease frustrations for your patients once deductibles reset:

Your Staff Also Wants Holistic Payments
Did you know that 46% of the staffing shortage crisis in healthcare is due to employee burnout? Given the challenges presented by the pandemic, it's no surprise to learn that many healthcare providers are being forced to increasingly rely on temporary staff and recent graduates.

In the time it takes to train these new additions, patients experiencing payment challenges will likely find their issue exacerbated by inconsistent experiences, a lack of answers or staff members who are unable to provide helpful guidance.
A holistic approach enables greater self-service for patients, reducing inbound calls and staff time spent tracking and processing payments. Capabilities including AutoPay and automated notifications and reminders also remove staff from the payment process, allowing them to focus on patient care.
Maximize Your Deductible Reset Season
As the year winds down and you find more patients eager to take advantage of their deductible being met, here are a few questions to answer as you consider the need for a holistic payment solution:
Does my current payment platform offer automated payment and notification options?

Can my patients easily self-serve when it comes to managing and paying their accounts?

Is my practice receiving higher volumes of inbound calls related to billing and payments?

Are more payments being missed and becoming past due?

Is my staff spending more time processing payments and handling payment enquiries?
The answer to these questions can serve as a guidepost as you work to build the comprehensive billing and payment platform needed in today's complex world of healthcare.
For more information on how you can bring an end to fragmented payment experiences, check out this new white paper featuring an in-depth look at consumer and executive perceptions of the bill payment process and who inclusive payment portals must become a top priority for billers.
Ready to get started? Let's talk! Paymentus healthcare experts are excited to show how you can transform your billing and payment solution to meet patient and staff expectations.