How Better Payment Experiences Can Positively Impact Customer Retention
Traditional strategies to reduce customer churn and retain customers in highly competitive markets such as telecom, insurance, property management and even healthcare may create loyalty but can often impact the bottom line.
Tactics such as lowering prices, adding more office hours, expanding service offerings, etc. provide unique differentiators but at the cost of revenue and staff stress. The good news is that you already have a key loyalty driver within your business that can be used to improve both your customer retention and cash flow – your billing and payment platform.
The Root Causes of Customer Churn
Customers switch companies for a variety of reasons, some more controllable than others. There are obvious reasons such as promotional pricing offers from competitors or poor customer service. A bad service experience can lead to a bad online review, potentially ruining both new and existing customer relationships. In these instances, companies generally have more control over the experience and can improve their operations.
But there are situations out of a biller's control that can impact loyalty. Consider a recent J.D. Power 2022 U.S. Insurance Shopping StudySM showing that insurance customer satisfaction with price has plummeted, effectively driving more policyholders to shop for a new policy. The fine print here is that rates were impacted by the explosion in used car buying, greatly increasing vehicle repair and replacement costs.
In this instance, insurers had two choices: eat the costs or increase rates and hope policyholders would remain loyal due to other factors (outstanding service, convenience, etc.).
The Cost of Acquiring Customers
Why is customer churn such a bad thing? Beyond the obvious of losing customers, data shows that acquiring new customers can be a costly proposition. It is estimated that acquiring a new customer is 5X more expensive than retaining an existing customer. That's a lot of time and money spent trying to get someone to take advantage of your services that could be spent on retaining those who already do.
This may not even take into consideration promotional offers and sign-up bonuses that can entice a customer to try your service as part of a customer retention strategy. Once these promotional periods end, you'll likely find yourself having to repeat this process to a new set of prospects.
These short-term fixes do nothing to address the comprehensive customer lifecycle, which takes into account everything from services rendered to the billing and payment process. And it's this billing and payment process that can be your secret weapon in the battle to retain customers and reduce your customer churn rate.
The Impact of a Poor Billing and Payment Experience
It may seem odd to think of billing and payments as a way to prevent customer churn but take a second to consider your everyday shopping. Say you go to a grocery store where 20% of the time your card is declined. How long would it take you to stop going to that store and find another?
Or consider a store that doesn't accept your type of credit card. It's much easier to change stores than it is to change credit cards, so it's likely this limitation would drive you away from this store entirely.
This is the same situation facing customers looking to pay healthcare premiums, cable bills, rent or auto insurance policies. Yes, paying the rent may be more essential than paying for a bag of chips, but the customer expectations for doing so are remarkably similar. In fact, it shouldn't be easier to pay for that bag of chips but it often is – and that's a problem that causes churn.
Optimizing Your Most Frequent Customer Touchpoint
One of the most important reasons to prioritize the billing and payment experience is that it's often the most frequent touchpoint you have with your customers. While they may not visit your offices or call you more than once or twice a year (if that), they are paying you on a monthly or quarterly basis. This is why the payment experience can create such an outsized opinion of your organization.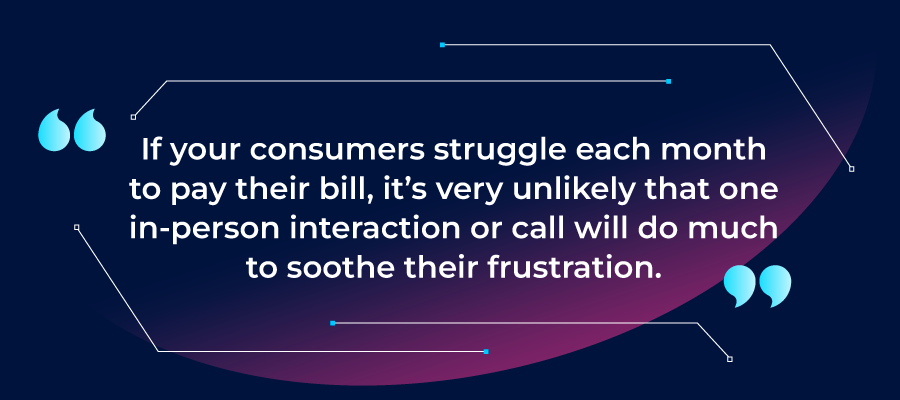 And there are many reasons a customer may struggle to pay their bill. Clunky billing and payment experiences are one challenge for billers to solve. If every step of the payment process looks different or the experience is more difficult depending on the device being used, it's a recipe for customer frustration. Customers want simple and intuitive experiences, especially when they're trying to pay their bills.
Complex or overwhelming payment processes lead to another issue: inbound calls. And if one customer is struggling with their payment, chances are they're not alone. These high call volumes lead to both overburdened staff and long wait times. Neither is good for business. This becomes especially troublesome if customers aren't offered self-service options in terms of how they can pay and manage their accounts.
The Loyalty Driver That is Billing and Payments
Knowing that the payment experience is an essential part of any customer retention strategy, it's important to consider what makes for an ideal experience. A few notable product features that improve customer satisfaction include:
Paymentus delivers these and more through our best in class electronic bill presentment and payment (EBPP) platform. The Paymentus billing and payment solution recently earned top scores for Product Features from a leading financial analyst firm based on:

Breadth of eBill delivery and payments

Supported notification channels and payment methods

Overall solution usability and functionality
The upshot is that billers can rapidly build a holistic, omnichannel EBPP platform that offers deployment flexibility and superior functionality to drive greater customer satisfaction. For one leading telecom, this led to a 40 point increase in its Net Promoter Score. For a top insurer, the Paymentus solution allowed it to reduce its disbursement times to less than an hour and earn a 20+ increase in its Net Promoter Score.

Want to see how holistic billing and payments can help you reduce costly churn and retain more customers? Let's talk! We're excited to share how we can modernize your EBPP solution to drive greater loyalty.