During CS Week 2023, Paymentus had the pleasure of participating in a panel discussion with the City of Tallahassee and its additional vendor partners Itineris and E Source. The conversation touched on a variety of topics that showcased why Tallahassee earned the title of #1 public utility in America.
It was during this discussion that James Barnes, Chief Customer Operations Officer for City of Tallahassee illuminated a key aspect of the relationship between a biller and its billing and payments vendor.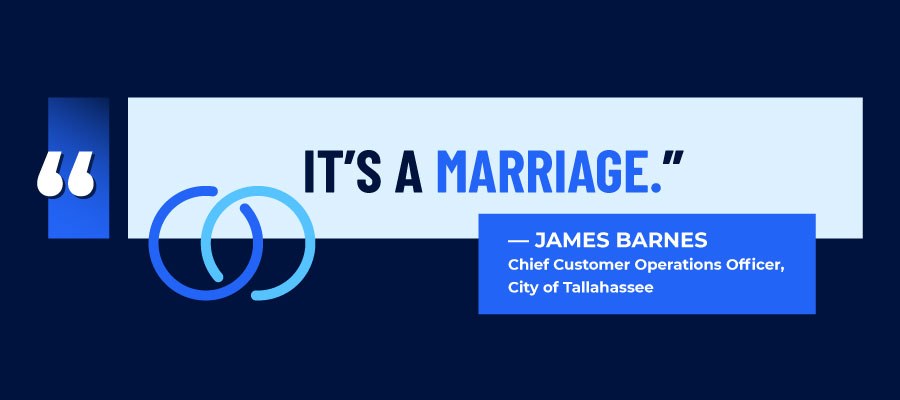 Three simple words and yet, it shines an entirely different light on the expectations all billers should have with their vendors. And it's these expectations that Paymentus continuously seeks to meet and exceed.
Happiness Beyond the Honeymoon: The Benefits of a Lasting Billing & Payment Partnership
It would be hard to overstate the importance of finding a vendor that can meet the needs of a business once the honeymoon stage is over – one that truly delivered on the promises made during the courting process.
First and foremost, billers are able to confidently offload their billing and payment functions to experts who are both well versed in payments and the client's industry and their business. This is what you're truly looking for in a third-party provider when deciding whom to "marry." They bring expertise and future proof solutions, and integrations that are pre-built and proven. They bring a reduction of compliance and regulatory issues that are so prevalent in the payment industry, along with excellent reporting and reconciliation processes. At least, that's what you hope when you are promised these things during the "dating" phase.
Long-term relationships enable billers to avoid time consuming procurement processes, which may distract internal teams from day-to-day business operations (because if you've ever had to plan a wedding, you know that's something you'd only like to do once). With this process potentially taking months (and sometimes more), it's in the best interest of all involved to invest as much time as possible to ensure the perfect partner is vetted, chosen and capable of offering a relationship that grows.
The ideal is avoiding these situations altogether. The question is, how do you get down the aisle with your billing and payment vendor soulmate?
The Core Tenets of a Successful Vendor Relationship
The necessity of billing and payments to the viability of any organization means that billers must be diligent and uncompromising when selecting a partner. Of course, the same is true (or should be) in the world of relationships. Here are a few core tenets that can help you find and build a long-term relationship with your billing and payment partner.
Trust
Everything starts with trust. As your billing and payment solution provider, our number one objective is to relieve you of the burden that is managing billing and payments. We want your teams to have the faith and confidence that they can focus on their day-to-day, without having to worry about security, processing payments, optimizing the customer experience or the other monsters lurking behind payments. 
But trust is not given, it's earned. Since 2004, we've processed billions of transactions for leading utilities, healthcare providers,insurers, governments, telecoms, lenders and more. Through these successes, our electronic bill presentment and payment platform (EBPP) earned best in class status from a leading financial analyst firm, outscoring eight of the top legacy EBPP providers.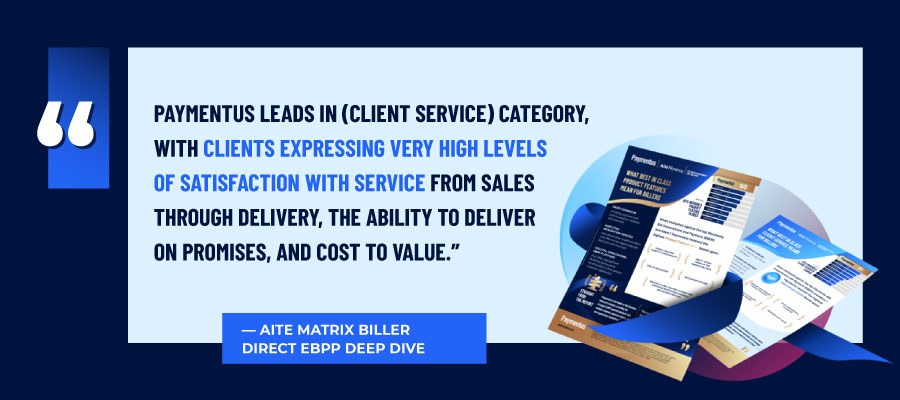 It's this level of experience and expertise that gives our clients the confidence to know that we can address their needs – because we've done it for their peers with award-winning results.
Growth
Personal growth in a relationship is essential, especially as one experiences major life events such as having kids, changing jobs or buying a house. Growth from your vendor is just as essential and important to the viability of an organization. 
The world of billing and payments is highly dynamic and prone to major changes and at a moment's notice. Paymentus offers billers a comprehensive, holistic solution that is natively built from the ground up. Our technology allows us to quickly enable more payment methods and channels than any other provider. This is accompanied by the ability to easily capture data from these new payment types and accommodate shifting consumer needs to consistently future proof your investments. The result is an ever-expansive platform that continuously grows to meet your needs and new business conditions.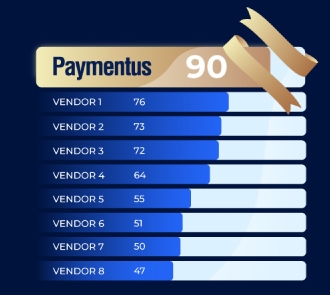 Paymentus outscored eight leading legacy EBPP vendors for "Product Features" by a wide margin. This achievement was based on a series of factors including:

Rapid expansion of billing, payment and communication methods and channels

Ease of integration

Platform deployment flexibility

Superior functionality in support of greater customer satisfaction
Going Above and Beyond
While all marriages begin with vows, there are many actions that cannot be accounted for in said vows or business contracts. To this point, Mr. Barnes relayed a story. When City of Tallahassee launched its new billing and payment system, Nicole Haskins, Vice President of Sales & Marketing at Paymentus, made it a point to join the Tallahassee team to celebrate the go-live day.
As part of its new solution, Tallahassee could now offer citizens cash bill payments through local Walmart stores. Unprompted, Haskins decided to visit a local Walmart to ensure the in-store experience was simple and seamless. Finding gaps within the experience due to being a new process to the Walmart staff, she quickly facilitated a training session to ensure all critical customer cash bill payments were processed seamlessly moving forward in the Tallahassee area.
Referring to Haskins' effort, Barnes simply said, "A contract won't say that. That's when I knew we had the right payment partner." A partnership – and marriage – with many happy anniversaries to come.
Want to begin benefitting from a billing and payment solution that can grow with your organization? Let's talk! Plus, check out this recent white paper showing what consumers want and billers need from a billing & payment solution.