Billing & Payment Capabilities Customers Will Be Thankful For
If you've ever felt that collecting bill payments is a thankless task, you're not alone. While it may seem that a billing and payment solution only gets attention when a customer has a bad experience, the truth is far different. Customers depend on their billers to provide simple, convenient and intuitive ways to pay their bills. And when they're delivered, customers are more than grateful.
In the spirit of the season, we'd like to share a few billing and payment capabilities that will simplify your customers' lives and have them saying, "Thanks!" all year round.
Billing & Payment Notifications
A recent survey showed that 23% of Americans who have paid a bill late in the past six months simply forgot about the bill entirely. This simple mistake can lead to late fees or account shutoffs, and potentially impact customer satisfaction and loyalty.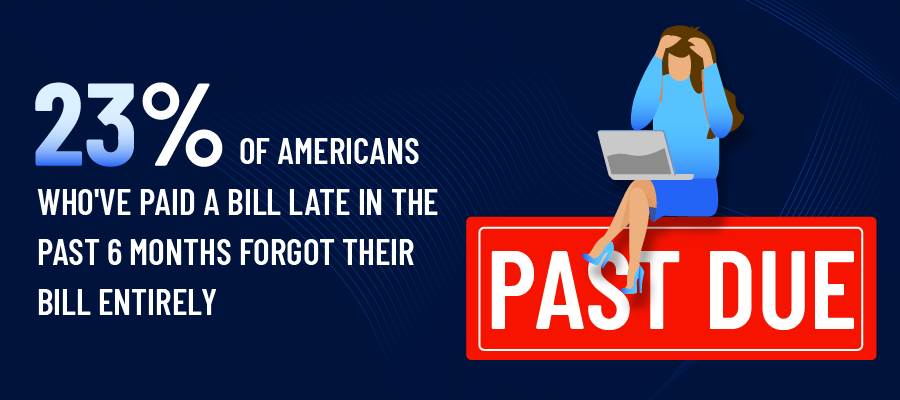 Notifications help to avoid this by proactively reminding customers that their bill is due. Reminders can be sent by email, text or phone, and offer a simple way to let customers know that you are on their side. Not only can you earn more loyalty, you'll also hear, "Thanks for reminding me!"
Notifications aren't just for alerting customers that a bill is due. Real-time payment confirmations offer customers peace of mind that their bill has been paid. By surrounding customers with bill pay communications, you can provide a seamless experience for customers that ensures more on-time payments and saves your call centers a few inquiries, as well.
AutoPay
There's also another great way to ensure your customers never forget their bills – automated payments (AutoPay).
The recently released How Americans Pay Their Bills, 2023 research report from Datos Insights shared a shocking statistic: 60% of bill payments are made as one-time payments. When 23% report missing a payment simply because they forgot their bill, relying on 60% of your customer base to remember to pay on time each month means we have a world of opportunity.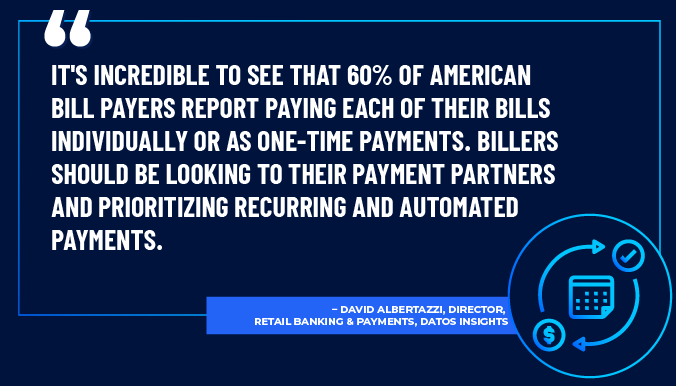 AutoPay addresses this need by offering customers set-it-and-forget-it convenience in paying their bill. Customers no longer need to actively remember and manage their payments. Bills are automatically paid using the customer's preferred payment method, with payment confirmations sent to add further peace of mind.
Chatbot
One thing we hear from so many of our clients is that they just want to make it easy for their customers to pay their bills. While "easy" varies from client to client, having a 24/7, interactive chatbot to handle billing and payment-related tasks fits just about any definition.
Aside from its constant availability, chatbot also offers a full-service experience that goes beyond scheduling and accepting payments. Customers can resolve account questions, check balances and request live help as needed (reducing call volumes).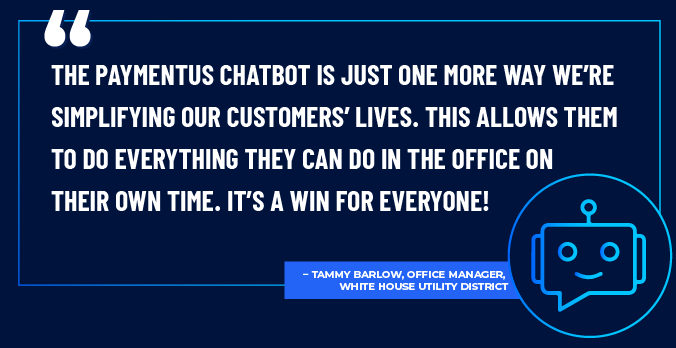 Chatbot is also driven by machine learning, which allows it to continuously optimize its performance as it learns to identify more keywords. Customers get to their resolution faster, on their own time and without having to provide letter-perfect prompts.
Frictionless Security
One of the greatest challenges for any organization enabling digital payments is balancing the user experience with security. The ideal situation is one that both heightens security and streamlines the payment process.
One way our clients have accomplished this is through the deployment of Secure Service® IVR and Secure Service® SMS. In each case, call-in customers can complete their payment – while on the phone or through text – without having their sensitive information exposed to customer service representatives. For IVR, customers call in and are given access to the Secure Service portal to input their payment details. For SMS, customers can request a unique link be sent to their phone, which they can then use to pay at their convenience.
This seamless experience not only benefits your customers, but your internal staff as well. CSRs are no longer responsible for inputting card data or payment information, freeing them of compliance burdens and allowing them to serve more customers.
Ready to earn more thanks throughout the year? Check out the full How Americans Pay Their Bills, 2023 research report for generational and vertical-specific payment data you can use to build your billing and payment optimization plan. You can also contact us at any time to learn more about how we fill your plate with billing and payment innovations.