Why Cash Still Matters for Bill Pay Inclusion
With the proliferation of bill pay methods and channels such as apps, portals, digital wallets and the like, it's sometimes easy to forget that there are millions of unbanked, underbanked and cash-preferred consumers needing to pay bills in a way that fits their lifestyle and preferences.
In fact, a few recent statistics showcase the need for greater bill pay inclusion for this group of bill payers: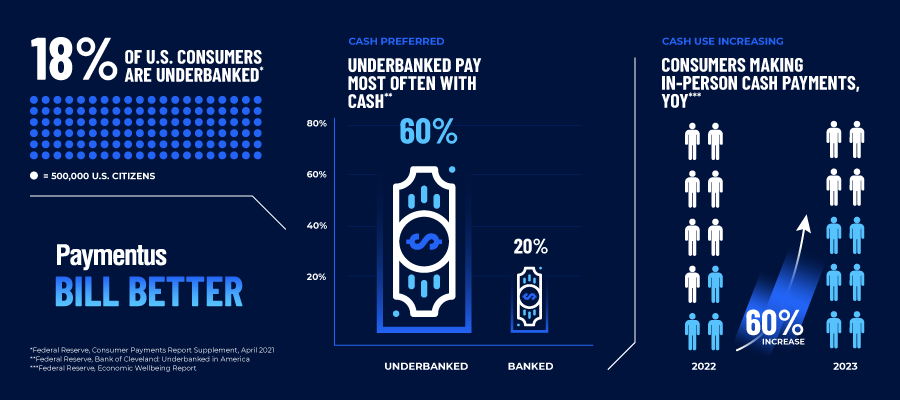 The challenge is that "cash bill pay" is as wide ranging a term as "digital bill payments." Cash-preferred customers do not uniformly visit branches, nor do they want to. There is no one-size-fits-all solution that can accommodate this diverse group of bill payers. That's why it's essential that billers consider a multi-pronged approach to addressing this sizable market. 
As part of our holistic, omnichannel platform, Paymentus supports five different cash bill pay options to meet the varied needs of today's unbanked, underbanked and cash-preferred customers:

Point-of-Sale — Point-of-Sale (POS) cash payments offer the benefit of immediacy when paying a bill at a service provider's location. For instance, when a patient visits a healthcare facility, they can pay before they leave through a POS device. The payment is instantly processed and the details are visible in the Agent Dashboard. The customer gains peace of mind that their bill has been paid and the provider is quickly paid.
Kiosk Payments — Payment kiosks are a convenient self-service tool that allows bill payers to pay with cash, credit and checks without the need for staff assistance. This allows for quick and easy payment interactions through the use of an intuitive touchscreen. Services are offered with multiple language options and allow customers to review balances, view bill information and enjoy a comprehensive billing experience without the need to interact with staff.
PayPal Digitized Cash — For the millions who receive cash as part of their job (e.g., waitstaff, gig workers), converting their cash to digital currency enables them to enjoy greater flexibility in how they pay their bills. As an Instant Payment Network® partner, PayPal allows customers to bring cash to one of over 100,000 participating retail locations nationwide and have it added to their PayPal account digitally and instantly. And with more billers accepting PayPal as a payment method, cash-preferred customers can now benefit from digital bill payments.

Walmart Bill Pay — The Paymentus partnership with Walmart, one of the largest retailers in the U.S., enables billers and their cash-preferred customers to process bill payments using Walmart Bill Pay at more than 4,000 Walmart locations nationwide. Cash-preferred customers can conveniently access Walmart's MoneyCenter locations for fast, in-person payment processing. Customers have the added convenience of selecting cash, debit or Ucards™ to pay for their bill balance. Just as with other methods, these payments post in real-time so there's no payment delays and resulting service interruptions.

Scan-to-Pay — Scan-to-Pay adds further bill pay convenience by allowing customers to pay using cash at a convenient local network of retailers such CVS and Walgreens. This not only allows bill payers to pay when they want and where they want, it also extends the reach of billers and frees in-branch resources of handling bill pay obligations.

Bill Pay Innovation Should Be Synonymous with Bill Pay Inclusion

No matter the industry, all billers must act under the same mantra: no bill payer left behind. If your billing and payment platform contains blind spots, it's costing you revenue and possibly a good percentage of your customer base.
When done right, a technologically advanced billing and payment platform is one that brings together the widest array of bill pay capabilities under one roof – and makes them simple and intuitive regardless of their application.
For bill payers, the benefits are obvious, but for billers, there's a host of reasons to expand your cash bill pay network. The use of established retail networks allows you to serve your customers beyond your typical office hours. You can also accept, process and handle more payments without adding additional staff. What's more, billers can reduce the challenges and safety concerns surrounding the handling of cash.

To find out more about how these solutions can be seamlessly integrated into your existing billing and payment operations, reach out to our cash bill pay experts. Let us help you to ensure that no customers, especially those who are cash-preferred, are left in the cold when it comes to paying their bills with the same ease and convenience that other consumers already enjoy.