Dispelling Today's Top Holistic Bill Payment Myths
The best bill pay experience begins not with technology but with a firm understanding of not only your organization's goals and capabilities but also what the everyday consumer wants and expects from their experience. And given the financial pressures and volume of monthly bills facing bill payers, meeting these expectations is fast becoming a necessity. 
According to a recent research report from Paymentus and PYMNTS, bill pay frustrations lead to consumers exhibiting interest in switching to a new provider that can provide an inclusive platform: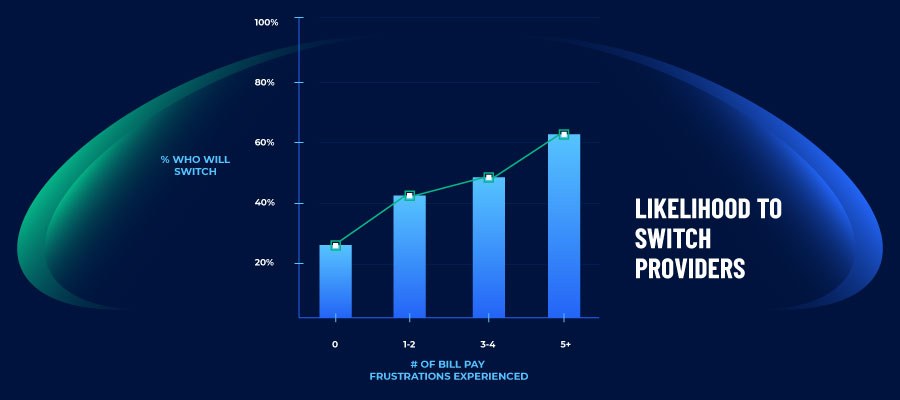 Given these stakes, it's clear that billers must seek out inclusive billing and payment platforms – defined as a single payment portal that offers extended payment methods, capabilities (e.g., AutoPay) and full account management capabilities. Yet 26% of billers indicate they are not interested in providing a holistic bill payment solution for two main reasons:

It would be less convenient for customers than their own limited, non-holistic option

It would be too complicated to integrate
Let's take a closer look at each to see why billers should reconsider their position and how Paymentus can help.
Myth 1 – Holistic Bill Payment Portals Are Less Convenient
The definition of convenience varies greatly from biller to bill payer. A biller offering one main portal, with one payment channel and only a few payment options may feel they're making it easy for customers. After all, the customer knows exactly where to go and doesn't have to search for their preferred payment method. Convenient, right?
Problem is, that's just one bill of many that that consumer must pay. And they may find it easier to pay using a digital wallet or like to earn rewards using a credit card.
Deciding what's convenient for a consumer is an impossible task that often leaves billers trying to hit a moving target. The ideal solution is one that offers a variety of payment methods and channels, a seamless experience regardless of payment type or device, and the flexibility to meet future needs.
Myth 2 – Holistic Bill Payment Portal Integrations Are Too Complicated
When compared to eight of the leading legacy electronic bill presentment and payment solution providers on the market, a leading financial analyst firm ranked only Paymentus as best in class. This is due in large part to our product features, which outscored these same vendors by a wide margin.
One particular reason cited in this ranking is our simplified integration process that streamlines implementation and offers more ways to pay, get paid and communicate. While no integration is not without challenges, our thousands of successful integrations over the course of nearly 20 years have given us the ability to anticipate and avoid potential pitfalls. In fact, our solutions and flexibility allows you the biller to focus on your customer.
As stated in a previous Bill Better® article, Paymentus also offers four distinct deployment models to fulfill each clients' particular needs:

Fully hosted

iFrame integration

API integration

Developer Portal and SandBox
Each of these ensures that all elements of the system are seamlessly integrated and work together, while also expanding payment capabilities without having to include additional vendors.
The Answer Is Clear
One last data point shows why billers must overcome their hesitations and seek out an inclusive solution:
Given this near unanimous preference, it would seem that the heavy lifting is done and it's simply a matter of finding a partner to deliver this holistic solution. Our demonstrated successes show we can deliver the billing and payments experience consumers increasingly want. Solutions where they can pay multiple bills in one experience and checkout. Omnichannel solutions where customers can check out or pay the same way regardless of channel, so the payment experience and data is consistent.
That is the definition of holistic. 
Want to see how easy it can be to meet and exceed customer expectations for inclusive bill payments? Let's talk! And be sure to download our complimentary white paper that shows what billers want and consumers need from a billing and payment solution.