Convenience, Choice, Control – A Network That Delivers All
Driven by high-end eCommerce retail experiences, consumer expectations for payment optionality, flexibility and speed have never been higher. These expectations, however, expand far beyond retail and land on the shoulders of today's financial institutions (FIs) and their digital bill payment solutions.
After all, if Amazon can offer a centralized experience where one can buy everything from snow tires to kitchen appliances, with 13 different payment options and with same day delivery, surely today's FIs can do the same when it comes to something as essential as bill pay.
The challenge, however, is that legacy banking payment solutions are not built to meet today's expectations for real-time speed and payment optionality. To combat this challenge, Paymentus offers the Instant Payment Network® (IPN), a unique, centralized, real-time digital bill presentment, payment and money movement network hub.
Delivering a Centralized Bill Pay Experience
Once a major channel of engagement between an FI and its customers, online bill pay has been increasingly taken over by direct billers. A recent Aite-Novarica survey found that direct billers captured 77% of all online bill payments, even as 75% of consumers report that they'd prefer to pay all of their bills in one place.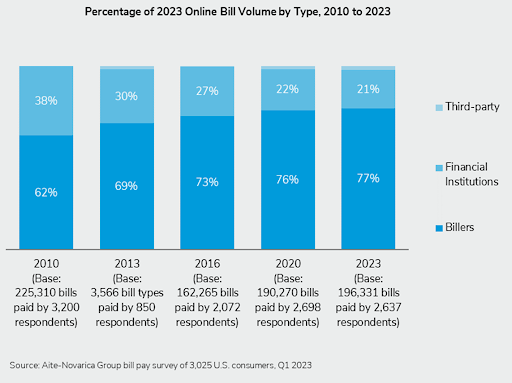 Why the disconnect? As compared to most FIs, direct billers often provide expanded payment types such as cards and real-time payment capabilities that include real-time payment options and instant payment confirmations. But for customers paying all of their bills through their direct billers' websites, this is a fragmented, inconvenient experience.
By offering customers a way to get all their bills electronically via their online banking and a faster, more reliable way to pay bills and move money in real time, the IPN enables FIs to offer a direct billing experience in a single, centralized hub.
Expanded Bank Bill Payment Options
While ACH continues to be the most preferred payment option for all generations of bill payers, credit and debit cards are gaining in popularity, particularly among younger bill payers. The IPN offers instant connectivity with expanded payment options that include ACH, debit and credit cards, and even cash through thousands of physical retail locations across the country.
The key here is that banks can now offer customers any type of payment that is enabled by a particular biller. For instance, if a local utility such as a water company allows credit card payments, customers can pay using their preferred card through the FI's platform.
But IPN supports more than just bill pay — it's also a platform for instant money movement (P2P, new account funding, etc.). Customers can experience the same simplicity and convenience of bill pay while transferring money from outside institutions or sending money to a friend. The upshot? Customers never have to leave the FI's online banking experience. All of their transactions now run through their FI, helping these institutions best understand the spending and money movement habits of their customers, which in turn drives greater engagement opportunities through more personalized offers.
Meeting Real-Time Consumer Expectations
The technology that underpins the IPN may seem complex, but for FIs and their customers, it works exactly the way they think money movement should work. You make a payment, and then a few moments later, you see that it went through. No more making payments and not knowing when they'll post.
On the Instant Payment Network, when you pay a bill, send money to a friend or transfer funds from another account, you can see the transaction post in near real time. And for FIs who are on the Instant Payment Network, they don't need to worry about navigating interoperability between payment rails to ensure near real-time transactions because IPN is already connected to real-time rails.
The Full Benefits of IPN
IPN delivers transformational change for FIs by offering a superior way to serve consumers' financial needs from both a real-time bill pay and money movement perspective. Consumers now have the ability to enjoy a direct biller experience from a single hub, complete with expanded payment options and real-time confirmations.
Want to learn more about how the Instant Payment Network can meet your specific needs? Let's talk! And be sure to check out our latest white paper showing how financial institutions can make bill pay a consumer magnet again.