Embracing the Dynamic Billing & Payment Ecosystem
Today's billing and payment ecosystem can be summed up in the following way:
Technological innovations create new customer expectations. New customer expectations drive technological innovations. Rinse and repeat.
At the center of this ecosystem sit financial institutions (FIs) and billers that want nothing more than to deliver modern, best-in-class billing and payment experiences – yet may struggle to find the time and resources to continuously invest in new technologies.
Paymentus recently hosted a panel discussion featuring leaders from the banking and direct billing world sharing insights on how their organizations are embracing today's dynamic billing and payment ecosystem. Here are a few of my key takeaways.
Innovation Must Enhance the User Experience (UX)
FIs and billers that have found success with emerging payment types, such as digital wallets (PayPal, Venmo, Google Pay, Apple Pay, Amazon Pay), have focused on balancing the customer/member experience with the cost and potential rewards of implementing these payments. This approach centers around answering a few important questions: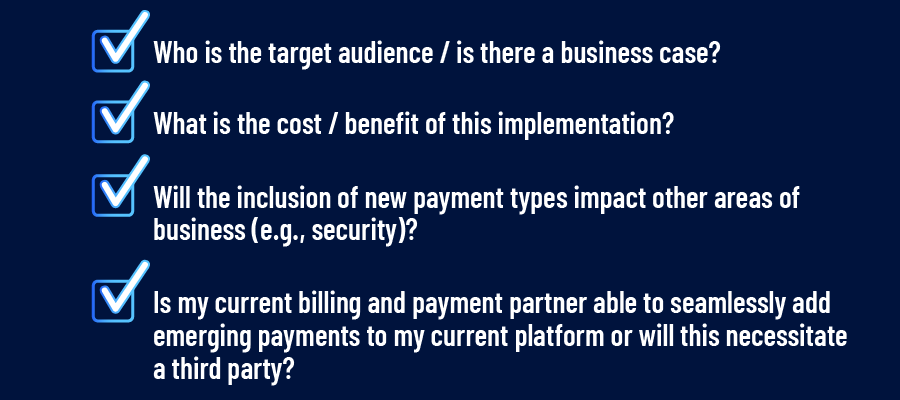 The panelists largely agreed that there's always an evaluation of cost versus impact. If after this evaluation it's decided that the innovation will enhance UX, it's time to start working with your billing and payment provider to make it happen.
Defraying Payment Costs is a Winning Strategy
The competitive landscape has never been more widespread. To take an example from the world of banking, a recent Paymentus whitepaper conducted in partnership with The Financial Brand showed that the lending industry was increasingly dominated by nonbank lenders. Rocket Mortgage was the top mortgage lender by loan volume in 2021, with only two banks to cracking the top ten (Wells Fargo (#4) and JP Morgan Chase (#6)). Ally Bank, a pure digital financial institution, is the top auto lender with a 5.75% market share, while Forbes' lists OnDeck, Lendio, and Kabbage — all nonbanks — as the best small business lenders.
Banks, credit unions and billers cannot give away the store, but it's important to consider how absorbing some costs can help create greater loyalty. We have seen small gives in non-regulated fees leading to greater loyalty and "stickiness" for FIs.
For instance, not passing through costs for expedited payments on FI-issues loans serves as both a value-add and a way to reduce delinquency risks. It's a win-win for the consumer and the lender.
Real-Time Payments Are Just a Start
With the launch of FedNow, the U.S. now has two real-time payment schemes including The Clearing House RTP®. Given this, consumer demand for payments that settle and post in real-time will soon make real-time payments a necessity for all institutions that accept or process payments.
What's interesting to note is that cash bill pay is a hot topic – particularly for billers. Research has shown that 4.5% of U.S. Households (5.9 million) are unbanked and 14.1% of U.S. Households (18.7 million) are underbanked. Meeting their payment needs means taking a more comprehensive approach when deploying a billing and payment solution.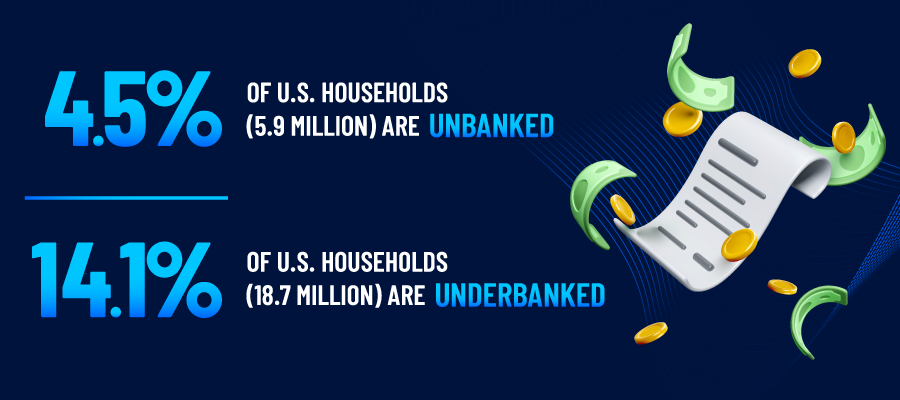 One way Paymentus helps clients expand their capabilities without adding costs or work for additional teams is through partnerships with national retailers including CVS and Walmart. Billers can enable Walmart bill pay to allow consumers to pay utility bills within Walmart Customer Service counters of Walmart MoneyCenter.
While real-time payments may be grabbing headlines, the traditional cash payment (some might say, the original real-time payment) still warrants attention.
Customer Satisfaction Metrics Are Essential
Thanks to the proliferation of social media and review sites such as Yelp, tracking your organization's performance has never been easier. But the key is to distill this information into actionable intelligence.
One panelist relayed that their credit union frequently surveyed members on their experiences within specific channels, as well as overall satisfaction. By focusing on a particular user experience, FIs and billers can ensure that their innovation goals are not impeding their customer service goals.
While it's great to track overall satisfaction, tightly focused surveys and questions around specific capabilities, payments and channels can inform organizations of changes they can make today, and areas to address before the next modernization project.
Embracing the dynamic billing and payment ecosystem is an essential part of any optimization strategy. Check out our latest white paper for exclusive insights on how your organization can drive revenue through holistic bill payment and money movement.