Achieving Digital Payment Growth Amongst the Cash-Preferred
CLIENT: City of College Park, GA  |  VERTICAL: Citywide Utilities  |  BILLS: 114K+ Annually The Opportunity
Located just 10 miles from the Hartsfield-Jackson Atlanta International Airport, College Park is a community rich in history and opportunity. While recent revitalization efforts have brought in new businesses and younger generations, the vast majority of College Park residents are underbanked (those with a bank account who rely on alternative financial services (e.g., check-cashing services, money orders)), unbanked and cash-preferred when it comes to paying their utility bills. While national estimates show that 4.5% of U.S. households are unbanked and 14.1% of U.S. households are underbanked,* 82% of College Park residents paid using non-digital payment methods in 2022.
Another challenge for College Park revolved around promoting its offerings. Traditional mail proved to be an unreliable channel and a lack of internal marketing resources prevented the municipality from effectively driving digital adoption. To meet its goal of increasing digital payment adoption, College Park relied on the best in class Paymentus electronic bill presentment and payment (EBPP) platform and complimentary, award-winning Client Adoption Success Team (CAST).
The Solution
College Park leveraged the Paymentus EBPP platform, which offers billers more ways to pay, get paid and communicate with customers than any other provider. The holistic solution was essential in helping College Park both expand its payment capabilities and promote additional ways to pay (eChecks, credit cards, etc.).
While cash-preferred, the town's residents are still largely connected to digital means of communication. Electronic Campaign Manager, a proprietary capability found within Paymentus Agent Dashboard, allowed College Park to send bill reminders, notifications and promotions through email and text messaging. This intuitive capability created greater engagement with residents and enabled the town to achieve greater operational efficiencies by bypassing traditional mail.
Additionally, College Park leveraged CAST to create and deploy a special sweepstakes campaign promoting its digital payment options. The comprehensive campaign included web banners, social media posts and lobby signage. Residents who made three consecutive online payments or signed up for AutoPay were automatically entered to win one of two gift cards. Paymentus handled all of the logistics and the cost of the prizes, giving College Park a hands-off way to drive digital adoption.
The Results
College Park's increased digitization, expanded payment capabilities and incentives promotion of its new offerings enabled the utility provider to meet its transformation goals and best serve its entire customer base.
Residents have taken advantage of self-service options and digital payments, which has led to an increase in online payment volumes and a decrease in call volumes.
From November 2021 to April 2023, College Park achieved: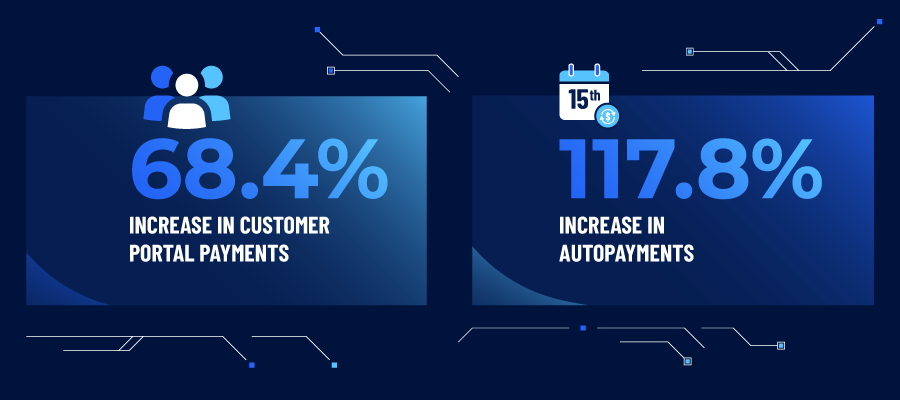 There are many times that we'll have ideas on how to better serve our customers, but if you don't have the tools and resources to support them, it's hard to bring them to life. With Paymentus and CAST, we now have the tools and resources to bring our ideas to life. That's empowering and it's something you can't help but have a strong affinity for."
– William Scott, Utilities Operations Manager, City of College Park